Ann trains all over the USA – and many countries – and is willing to travel to your location.


Sign up for the newsletter on the HOME PAGE right

—>
~~~~~~~~~~~~~~~~~~~~~~~~~~~~~~~~~~~~~~~~~~~~~~~~~~~~~
MENTORING CLASSES – current classes are full
Contact Ann for more information.
~~~~~~~~~~~~~~~~~~~~~~~~~~~~~~~~~~~~~~~~~~~~~~~~~~~~~ATLANTA 


PLEASE

CONTACT ANN

TO BE PLACED ON A WAITING LIST
THESE CLASSES ARE OVER


AAMET EFT LEVEL 1 AND 2 – ATLANTA JUNE 22, 23, 24, 2016
AAMET EFT LEVEL 3  A

DVANCED EFT TRAINING

.
ATLANTA – AUGUST 19, 20, 21, 2016


Three Days – Three Trainers – One incredible opportunity


Ann Adams – Nancy Gnecco – Jondi Whitis join forces for AAMET Level ~~~~~~~~~~~~~~~~~~~~~~~~~~~~~~~~~~~~~~~~~~~~~~~~~~~~~~
If you'd like to set up a training class in your area, contact Ann for more information.


*EFT – Emotionally Freedom Techniques – the most popular, well research and support available for any of the energy methods.


~~~~~~~~~~~~~~~~~~~~~~~~~~~~~~~~~~~~~~~~~~~~~~~~~~~~~~
Wondering how to Integrate EFT into your Practice?
Listen in as other practitioners describe their experiences:

Gena Rotas, School Counselor, Licensed Social Worker
Karen Arthur, Psychotherapist, Licensed Social Worker
Laura Mazza Gonick, Mental Health, Licensed Mental Health Counselor
What others are saying about Ann's classes:
"I've been practicing EFT for some years and I recommend Ann Adam's EFT Classes for anyone who wants to learn and use EFT properly, safely and effectively." – Rena Gaudin, LMT
"This is one of those investments you make in your future. I loved the way the material was presented and the professionalism of Ann." – Elles, Educational Therapist
"You really helped me to understand what EFT is and how to practice professionally in a competent ethical manner. I didn't get the how before this course." – Tori, RN

Ann's personality added to the class. She is very skilled at making learning and integrating EFT into a clinical practice practical and intuitive.
"I have been a psychotherapist for over 35 years and this has been one of the best tools I have ever received. I came to this workshop just wanting to work on self, I did and will now also use it on clients. I learned new skills to use with my chronically ill or bereaved clients to help them with anxiety and depression. I also take away the motivation for persistent tapping on myself to decrease cravings." – Susan Levy, Psychotherapist
"I felt like it was a safe place to learn and heal. Ann has excellent knowledge. I am very appreciative." – Alina Beruvides
"I can't thank you enough for your class.  It was almost as if I was hearing the information for the first time – I really heard it and took it in differently than before. Your teaching style was perfect for me – very clear, wonderfully paced, and full of rich "nuggets".  I have been going over our notes and can't wait to practice more with the new insights.  Already I have noticed a different sense of respecting those in my life and their process, whatever that may be, versus the old pattern of imposing what I thought was best. This is invaluable." – Kristine Jensen-Smith

Ann was exceptional in creating an ideal learning environment with emotional safety and thorough material content. She is delightful and an expert in EFT!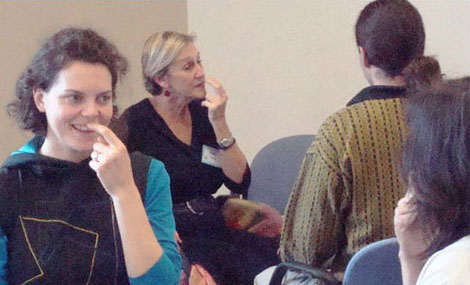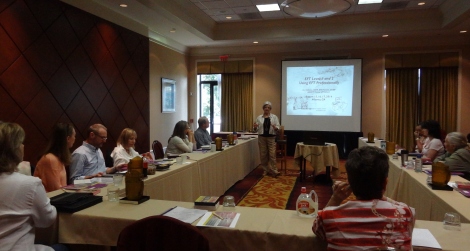 "Ann, I thought watching Gary's DVDs and reading the manual was enough and I would be bored  at level 1&2 but that was not the case. Learning in person is helpful and to learn/ practice in the group was important as a practitioner. Thanks again, you are a very good instructor and I love the PowerPoint presentation I purchased." – Laurie Teixeira, Georgia
"I loved the intimate groups with people who were willing to learn in a safe environment. The materials and handouts were very appropriate and easy to follow and absorb. I learned so much." – Debra Thompson
"The clear structure and mixture of activities helped drive home the learnings. Practical and paced properly."– Mike Broadwell
"I learned a variety of techniques to place in my 'toolbox.' Excellent presentation." – Terry Davidson
"The step by step organization [of the concepts] was just what I needed" – Cindy Kubica
The class was a combination of excellent presentation materials and interaction." – Catherine Rogers
Demonstrating the use of EFT with animals
Unsigned comments:
Enjoyed watching your ability to answer questions and go with the flow of the group while still covering the material.
Loved the many new ways to work with clients using their words.
The pacing of instructions, class demos, plenty of time for Q&A. Ann's knowledge and skills were shared so effectively and generously.
Experiential, Simplicity combined with complexity – very powerful.
Loved the demos, practice, organization AND Ann's humor.
Ann was very thorough and helpful  in her examples and explanation of material.
Enjoyed the relevant stories, use of humor, opportunities to practice. The slides and presentation were great.
My workshops are also listed on EFTbyWorkshop.cc
NOTICE: All Ann Adams' EFT Level 1 and 2 workshops are intended to be consistent with the content of Gary & Tina Craig's Gold Standard EFT Tutorial. The workshops also include the additional practitioner information from AAMET guidelines. The quality of this EFT workshop is the responsibility of Ann Adams, LCSW, of EFT Master Training.