This delightful, entertaining and adorably illustrated story of Sally and the Bully is a terrific way to introduce EFT to children.
Sally learns about tapping in her classroom and applies her new skill to her feelings about the school bully.
Co-written with my sister, Susan McDowell.
Illustrations Kari Tumminia.
Sally and the Bully is appropriate for elementary school age children. The downloadable package contains
the story,
a coloring book,
Flash Cards with one tapping point on each card
Handout sheets for the EFT process, and
Tips and Suggestions for Caregivers.
~~~~~~~~~~~~~~~~~~~~~~~~~~~~~~~~~~~~~~~~~~~~~~~~~~~~
Using EFT with Children – It's All About R.E.S.P.E.C.T – Internet radio show .
Audio clip: Adobe Flash Player (version 9 or above) is required to play this audio clip. Download the latest version here. You also need to have JavaScript enabled in your browser.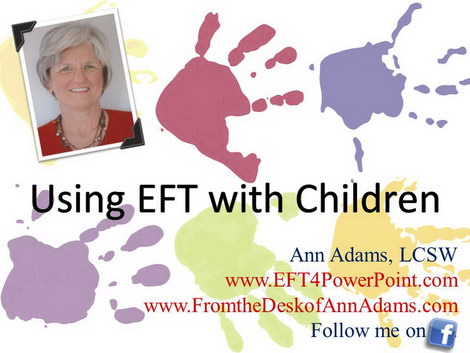 Download free a delightful pdf here: Using R-E-S-P-E-C-T with Children a companion handout for the above talk on using EFT with Children.
Once you have rapport and trust with the child the use of EFT with him or her is easy. It is the "getting to the using of EFT" that often is the challenge. There are many very useful ideas and suggestion in this presentation for anyone who wants to use EFT with children.
EFT and Children DVD
EFT Master Mary Stafford's Presentation discussing how she was able to introduce EFT into her school system and how she used EFT with children. Her unique insights and tested approaches offer a light-hearted and entertaining view of EFT. Purchase here
Cute youtube video for younger children:
Playing around with a camera one day led to this short video for smaller children. Enjoy!
Have Projector Will Travel: I have trained others in EFT all over the USA and several countries. If you'd like to set up an EFT training class in your area, contact me for more information. Ann's Training Schedule
STORIES ABOUT USING EFT WITH CHILDREN:
1999 was a big year for me. I changed jobs and became the director of a residential treatment program for children, had an exchange student from Poland, I moved, and I attended a Social Worker Conference where I first learned about EFT (Emotional Freedom Techniques). Originally skeptical – very skeptical – I decided to look into this unusual sounding technique. I tried it and was surprised at the results. I then studied EFT for months, used it with folks outside of the program and, because I did not want to experiment with the children, I called Gary for references to others using this technique. EFT can be amazingly effective with children.
I wrote stories about my adventures with EFT and the resident children for Gary Craig's newsletter. He later asked if I would present for his Specialty Series videos about using EFT with children.
I've reedited the heart warming stories from Gary's old newsletter archives for this blog site. Check out the children category on the left of the home page.
Meet EFETA
Useless but Interesting Trivia for the kid in all of us.

Did you know that eft is also the name of an immature newt (Salamander) especially the reddish-orange terrestrial form of a North American species, Notophthalmus viridescens. Honest!! From the Old English word: efeta.

In its juvenile stage, which lasts one to four years, this eastern newt acquires a bright orange red coloration, is highly toxic, and is called a red eft. This newt has the most complex and variable life history of any amphibian. It typically goes through four stages: egg, aquatic larva, eft, and terrestrial adult, returning annually to water to breed. There is much variation and some populations have no eft stage.
I read that and thought, "What? No EFT stage?
What a yukky fate to go through life without EFT! :-)
(Image of red-spotted newt eft, from "Hoarded Ordinaries" blog (www.hoardedordinaries.com), by Dr.Lorianne DiSabato. Picture taken August 6, 2006)
Free Download to Learn EFT: FromtheDeskofAnnAdams.com/IntroEFT