Every wonder how a particular product came to be? What was the author/producer/artist/etc thinking? Did it turn out like they wanted it to?
This page is about the story behind my products all of which are listed at EFT4Powerpoint.com/store All products are guaranteed. All will help you along your EFT journey. Questions? Contact Ann
EFT Level 1 and 2 and 3:
Comprehensive Training Resources
– Expand your knowledge of EFT
When I began the project for three books — yes, three, as in 1 and 2 and 3 — books I'd already written about EFT (Emotional Freedom Techniques) and taught EFT classes many times. I thought – foolishly in retrospect – "How tough can it be to put it all in book format?" Right? Wrong! Different set of challenges, much, much more research, different use and audiences and more than one view of it all to consider.
All 3 books are well researched books that cover all the EFT concepts and then some. A truly great resource for those wishing to refresh their knowledge, review or, learn EFT as a beginner.
These books are a terrific companion to workshops or stand alone texts.
Read what others have to say about these useful books.
The Insider's Guide to Marketing Your EFT Practice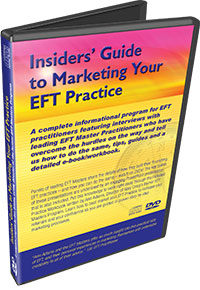 HOW DO I GET STARTED AS AN EFT PRACTITIONER? is often the question people ask when thinking about starting up or increasing marketing their practice. There are so many options it can seem overwhelming. In 2002, I was planning to retire from my "real job" in the next few years to spend my time developing my interest in EFT. Part of my job at the mental health center had been to market the services of our various programs, a task I found fascinating. I'd kept up with marketing literature and attended Marketing courses.
As I talked with my peers I realized that many of them didn't seem to know even simple marketing concepts.
I stepped up and offered to teach the very first marketing class at ACEP (Association of Comprehensive Energy Psychology). Prior to that point ACEP classes did not cover any business issues, just energy techniques. In my application to ACEP I commented that marketing energy services appeared to be a real challenge for most of the practitioners. That if they didn't decide to pick me to teach marketing to please consider having someone present on the topic. They did pick me! Me and my big mouth.
If you agree that writing a book won't make you much money try spending hours on a breakout session or plenary for a conference! But, as Gary Craig said, if you publish a book – or make a presentation for a credible organization — you immediately become an authority.
The e-book contained in the DVD set is a system of successful action steps that guide you through the basic marketing concepts in language written for the helping professions.
What presenting and writing primarily does is to get your name out there.
When I coordinated the EFT Master Showcases I added a "bonus" presentation on marketing. I combined the best of that DVD footage with key marketing points most applicable to alternative services from all the generic books I had read and wrote: "Insider's Guide to Marketing Your EFT Practice." One person told me the book is like "having a coach, mentor and friend to guide therm through the marketing maze. I like that perception so well I used it in my marketing of the marketing book. Often our friends and customers give us our best marketing material. Just listen to what they need, what they are concerned about.
Too many think practitioners believe that once they have the "degree" or the right "certification" all they have to do is to hang out their shingle and people will come. "Build it and They will Come" may have worked in the movie. But it takes a lot of letting others know you are out there to pull it off in real life.
In this video I am moderating a panel on how to get free publicity for your business at an EFT Masters Showcase. One of the very controversial criteria for becoming an EFT Master certified by Gary Craig was being full time for a minimum of three years. Why was Gary insistent on that requirement? Because Gary's logic was that if someone was able to actually make a living from delivering EFT services that the market place had already assessed them as competent. Marketing can get people in the door, but it is competence that makes them stay. AND the best marketing still is word of mouth. Satisfied clients refer other clients.

Want more info about the Insider's Guide? Click here

EFT Masters DVDS
Tips and Ideas from the EFT Founding Masters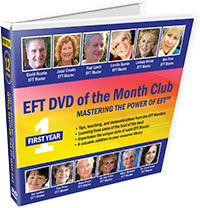 Whether you are a beginner or an experienced EFT practitioner you can gain insight into your own or your client's issues with the DVDs of sessions with the EFT Masters. There are 30 of unique creative and useful DVDs featuring dynamic, creative demonstrations, useful information and tips from highly experienced EFT Masters that you can put into practice right away. Powerful demonstrations from the EFT Masters who have been using EFT with thousands of people and every type problem. They are an invaluable resource for the serious practitioner and useful to new comers to the field. The videos can be purchased individually, packages of 12 or through a DVD of the Month Club subscription. While Gary Craig's EFT Master program is no longer, the talents and skills of those 29 people live on in these DVDs. For video clips of most of the DVDs go to EFTDVDoftheMonth.com
These DVDs are professional quality videos from EFT Master Showcases that I coordinated in Dallas, Boston, LA, Denver and Sydney, Australia. After 29 people were certified as EFT Masters I felt they should demonstrate their skills; they should share their knowledge with others. In 2005 Gary Craig asked me to be the administrator (Director) of what he envisioned as a new certification for full time, experienced, highly skilled EFT practitioners. In a moment of blatant insanity I agreed and embarked on a journey that was challenging and frustrating but rewarding and resulted in deep friendships with some of the best EFTers in the world. After two years Gary resigned from the program and dropped any involvement – it was simply more than he, and actually I, bargained for time wise. I don't think either of us knew or anticipated the challenges. A credible certification program like we were attempting needs an entire organization and it was just us two. People have asked me why the The EFT Masters group did not continue in certifying other EFT Masters after Gary left. The EFT Master certification was a certification from Gary Craig.
I agreed to coordinate the EFTMastersWorldWide.com web site and newsletter. These were highly skilled individuals; I felt they could continue to share their experience with others. They continued to share occasional articles and their web site archive has a treasure of useful information. Gary Craig developed EFT; his certification was meaningful. There are certainly more very talented EFT practitioners than the 29 we reached and it is a shame there was not a way to continue to recognize them. The EFT Masters were individual practitioners; never intending to be a "group" or "organization." While we did express our desire to have others certified it simply wasn't a feasible option – time wise, money wise, logistic wise. Again, a certification program needs an organization with administrative support and financial backing from membership. AAMET was approached and expressed interest. Indeed, the EFT Master status has been on their agenda for several years now. They too are recognizing the challenges it involves.
I learned my lesson, I believe a certification program should be conducted by a democratically run professional organization. Whenever anyone asks me about certification I only recommend ACEP's Certified Energy Practitioner program and AAMET's EFT Training Certifications. All of the other EFT certification programs out there are individually created and run. I am aware that there are quality trainers out there giving certifications but any program created and run by one person simply will not have the staying power.
I'm still working on this page. If you'd like a list of all my products before I get it together for this page go to: http://eft4powerpoint.com/store/